---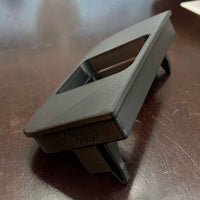 Sale
Have an Airlift V2 system with no integrated space for your controller in your 5th Generation Accord? Upgrade to No Coast Engineering's Cupholder Mount for you Airlift V2 Controller.
Fits: 1994-1997 Honda Accord (All Trims and Cars sharing OEM Cupholder)
**Please Allow One Week For Standard Product To Ship. 2-3 Weeks for Special Finishes**
Product Features:
- 3D Printed Version is Made of High Quality ABS Plastic
- No Modification Required to Fit. Replaces Cupholder.
- Available in Black Unfinished State
***3D printed finish will have minor layer lines visible which can be sanded and sprayed with filler primer base if painted finish is desired***
-Other Specialty Coatings or Dips (Please Inquire Via Email: NoCoastDesignworks@gmail.com for Specialty Coatings)
- For Use with Airlift V2 Controllers